The Art of Organising: a conference and an exhibition
30/10-4/11 the participants in The Art of Organising gather at Gallery Enkehuset (www.enkehuset.nu), a non-profit exhibition space and meeting place for the Stockholm art scene. For two days we will make presentations of our works for each other; on the third day we open for a wider audience with a public exhibition around the theme of Organising.
The main aim with this event is to come together, discuss our work, and socialise. The second is to create a wider awareness for the organisations and people represented in the Art of Organising.
Hopefully we will also improve our Art of Organising.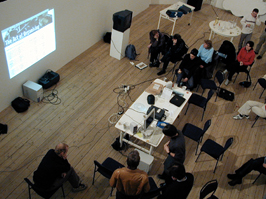 More pictures from the event...
Wednesday
10.00 — 11.00 Introduction by Karin Hansson
11.00 — 12.00 Lassi Tasajärvi and Juha Huuskonen
12.00 — 13.30 Lunch
13.30 — 14.30 Denis Romanovski and Aliaksei Tserakhau
14.30 — 15.00 Nils Claesson
15.00 — 15.30 Jon Brunberg
15.30 — 16.00 Karin Willén
16.00 — 17.00 Johan Malmström and Annika Drougge
17.00 — 19.00 Check in at Art Hotel
19.00 Dinner at SOC
Thursday
10.00 — 10.30 Anna Kindgren
10.30 — 11.00 Carina Gunnars
11.00 — 12.00 Bongi Jarne MacDermott and Paula Stenström
12.00 — 13.30 Lunch
13.30 — 14.00 Åsa Andersson Broms
14.00 — 14.30 Udo Noll
14.30 — 15.30 Ottilia Holmström and Love Nordberg
15.30 — 16.00 Ulf Robé
16.30 Collect ideas and projects for the public exhibition
19.00 — 21.00 Dinner at the Gallery and discussion about the exhibition
Friday
10.00 — 17.00 Create the exhibition
13.00 — 14.00 Lunch
17.00 — 24.00 Opening and release party